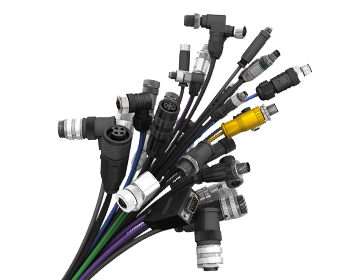 Field-Wireable Connectors
With a broad range portfolio of connectivity products, Turck offers diverse modules for tailor-made, customer-specific solutions. Field-wireable connectors are available in sizes M8 × 1/Ø 8 mm, M12 × 1, 1/2", 7/8", M16 × 0.75, M23 × 1 and also as valve plugs. The connectors make installation easier in applications in which it is difficult to estimate the needed cable length.
Valve connectors with the designs A, B, BI, C or CI are available with and without protective circuitry for connecting various different valves. Optional LED displays significantly reduce troubleshooting effort. Our product range is rounded off by accessories such as mounting tools, terminating resistors, wall feed-throughs, counter-nuts, caps and labels.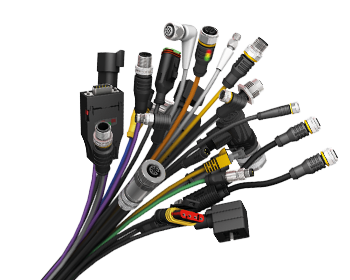 Ready-Made Connectors
Benefit from our extensive range of components designed for connection and distribution applications, which already fulfills numerous customer-specific requirements for details such as pin assignment, cable length, etc. The range includes connection cables, extension cables and bus cables, switch cabinet feed-throughs and receptacles, as well as passive and active junction boxes and accessories.
For example, the range of ready-made connectors includes metric M8, M12, M16, M23, M27 and M40 connector handles in addition to imperial 1/2", 7/8",1", 1⅛" and 1⅜", as well as various designs (straight, angled, with/without LED, with/without shielding), cable qualities and colors (PVC, PUR, PP in black, yellow, orange, gray, blue, white, green, violet). Not least, Turck also offers connector solutions for special applications such as receptacle, valve, Deutsch and Superseal connectors.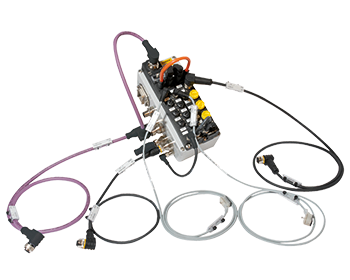 Unique Complete Solutions
Turck Mechatec offers you ready-to-connect complete solutions for your automation task. Whether you require a switch cabinet, terminal board or individual ready-made extension systems, you can always expect to receive tailor-made solutions, from the consulting and testing stage through to approval, as well as full documentation.
As a fully integrated part of the Turck Group structure, Turck Mechatec is in a position to offer end-to-end planning and solution-oriented project management for your task. We provide these services across all project stages, from the point that a specialized product solution is developed through to switch cabinet production, programming and commissioning.