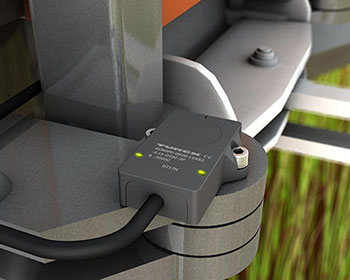 Guide Sprayer Booms
Patented accuracy: The QR20 non-contact angle sensor supports the farmer in guiding the sprayer boom on specific terrain.
The special feature of the Turck solution: The sensor measures the position of the spray arms inductively. In addition, the miniature encoder has a high electromagnetic compatibility - the machine operator benefits at all times from trouble-free operation.
The fully potted housing of the angle sensor withstands temperatures from -40 to +85 degrees Celsius and is absolutely leak-proof. Even diesel, chemicals or salt spray have nothing on the device. The protection classes IP68 and IP69K are maintained for life due to the contactless functional principle. The result is maintenance-free automation technology. The farmer can concentrate fully on his task: Apply crop protection agents in an environmentally friendly and economical way.
The contactless angle sensors from Turck also show their advantages when it comes to angle detection in the steering axle: This enables the turning process at the edge of the field to be carried out with pinpoint accuracy.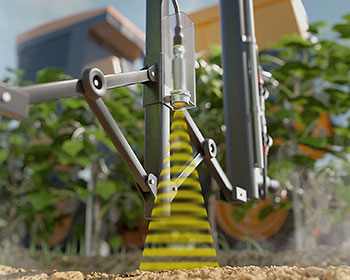 Measuring Ground Clearance
Plant protection is teamwork in precision farming. The RU100U ultrasonic sensor detects the ground clearance along the rows of vines. This is the prerequisite for precise alignment of the nozzles. In combination, the automation solutions enable lasting efficiency in the application of pesticides close to the surface of the leaf and gentle on the vines, even on impassable surfaces. The switching point can be set individually via teach line. As a service we are happy to take over the adjustment of the measuring ranges to suit the application.
Outdoor-tested: Even if the air temperature changes, the stainless steel sensor provides reliable data. The acid-resistant sensor withstands temperatures from -25 to +50 degrees Celsius reliably and is therefore suitable for use in any climate zone. The electronics are completely potted and protected against liquids, the transducer surface is PTFE-coated and thus resists even the most aggressive media. Convince yourself of the advantages in use.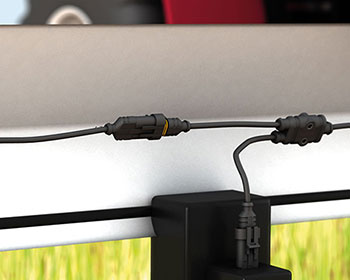 Control Spray Valves
The CAN distribution lines support this task by individually controlling the spray valves and thus precisely determining the spray quantity. The design of the connection technology is optimally adapted to the high requirements of precision farming.
The Y-splitters meet the requirements of protection class IP67/69K and thus achieve a long service life even in contact with crop protection agents. Superseal connectors ensure reliable retention of the plug connections - even under strong vibration.
The cable harnesses are modularly configurable - regardless of the machine-specific boom width, you can equip the various models of your field sprayers flexibly and economically with the appropriate cable harness. With the pre-assembled cables, wiring errors are effectively avoided. If maintenance is required, individual sections can be replaced quickly and easily. This is what a robust and efficient connection of CAN valves with the controller looks like - and economical spraying.