Duales Studium
Elektrotechnik (B.Eng./B.Sc.) | Digitale Technologien (B.Eng.) | WIW (B.Eng.) | Technische Informatik (B.Sc.) | Elektrotechnik-Automatisierungstechnik (B.Sc.)
Detmold | Ab dem: 08/01/2024 | Studium | Job ID TD13
Deine Ausbildungsinhalte:
Die Dualen Studiengänge Bachelor of Science Elektrotechnik, Technische Informatik und Elektrotechnik-Automatisierungstechnik bieten wir in Kooperation mit der Hochschule Ostwestfalen-Lippe in Lemgo an. Du verbringst pro Woche vier Tage an der Hochschule und arbeitest einen Tag wöchentlich im Unternehmen. Die Studiendauer beträgt sechs Semester.
Bei den Dualen Studiengängen Bachelor of Engineering Elektrotechnik, Digitale Technologien und Wirtschaftsingenieurwesen kooperieren wir mit der Fachhochschule Bielefeld. Du verbringst pro Jahr zwei dreimonatige Theorieblöcke an der Hochschule. Praxiserfahrung sammelst du in zwei weiteren Drei-Monats-Blöcken bei uns im Unternehmen. Die Studiendauer beträgt sieben Semester.
Dein Profil:
Mindestens Fachhochschulreife
Gute Leistungen in Mathematik, Physik, Informatik und Englisch
Analytisches Denken
Hohe Technik-Affinität
Teamfähigkeit, Engagement, Motivation und Zuverlässigkeit
Wir bieten:
Freue dich auf eine praxisorientierte akademische Ausbildung in einem weltweit erfolgreichen Familienunternehmen. Wir übernehmen deine Kosten für Lehrmittel und du bekommst während des Studiums ein Ausbildungsentgelt. Darüber hinaus stehen die Übernahmechancen für erfolgreiche Absolventen sehr gut.
*Die Turck Electronics GmbH in Detmold ist eines der Kompetenzzentren der Turck-Gruppe für die Entwicklung von Feldbus- und RFID-Systemen.
Über uns:
Turck ist globaler Partner für die Fabrik-, Prozess- und Logistikautomation in zahlreichen Branchen. Mit unseren digital vernetzbaren Lösungen für effiziente Automationssysteme gehören wir zu den Wegbereitern von Industrie 4.0 und IIoT. Mehr als 5.000 Mitarbeiter weltweit entwickeln, produzieren und vertreiben Produkte und Lösungen aus den Bereichen Sensor-, Feldbus-, Steuerungs-, Cloud-, Anschluss- und Interfacetechnik sowie HMI und RFID. Unser weltweites Produktions- und Vertriebsnetz umfasst über 30 Tochtergesellschaften sowie Vertretungen in weiteren 60 Staaten.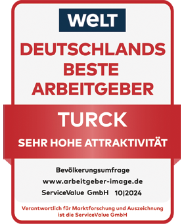 Wir freuen uns auf Deine aussagekräftigen Bewerbungsunterlagen.
Ansprechpartnerin:
Turck Electronics GmbH
Sylvia Straßburg
Gildestraße 5
32760 Detmold
+49 5231 948-1401