Praktikant (m/w/d) E-Commerce / Digital Sales
Mülheim an der Ruhr | zum nächstmöglichen Zeitpunkt | Praktikum | Job ID 1223068
Ihre Aufgaben:
Als Praktikant (m/w/d) im Bereich E-Commerce / Digital Sales hast du die Möglichkeit, unsere digitale Vertriebsstrategie im E-Commerce-Team aktiv mitzugestalten. Du kannst deine theoretischen Kenntnisse aus dem Studium unmittelbar in praktische Arbeit umsetzen und so wertvolle berufliche Erfahrungen in einem dynamischen Umfeld zu sammeln. Dabei arbeitest du eng mit unseren Expertenteams und renommierten Agenturen aus der Branche zusammen. Werde Teil unserer digitalen Transformation!
Direkte Beteiligung an der Entstehung unserer neuen E-Commerce-Plattform, der "Unified Sales and Service Platform"
Zusammenarbeit mit erstklassigen Agenturen im E-Commerce-Bereich
Optimierung von Prozessen und Durchführung von Tests
Management unserer Plattform und Mitarbeit an spannenden Sonderprojekten
Ihr Profil:
Aktuell im Studium der Wirtschaftsinformatik, Digital Marketing, Design und User Experience (UX) oder Betriebswirtschaftslehre mit Schwerpunkt Digital Sales / E-Commerce / Informatik
Erste Erfahrungen im E-Commerce, vielleicht sogar international, wären ein Plus
Sichere Englischkenntnisse
Wir bieten:
Eigenverantwortliche und ausbaufähige Position in einem weltweit operierenden Familienunternehmen
Flache Hierarchien, offene Türen und ein kollegiales Miteinander
Qualifikation "on the job" sowie mit geeigneten Schulungen und einer intensiven Einarbeitung
Flexible und studentenfreundliche Arbeitszeitmodelle, auf Wunsch auch teilweise im Homeoffice
Über uns:
Turck ist globaler Partner für die Fabrik-, Prozess- und Logistikautomation in zahlreichen Branchen. Mit unseren digital vernetzbaren Lösungen für effiziente Automationssysteme gehören wir zu den Wegbereitern von Industrie 4.0 und IIoT. Mehr als 5.000 Mitarbeiter weltweit entwickeln, produzieren und vertreiben Produkte und Lösungen aus den Bereichen Sensor-, Feldbus-, Steuerungs-, Cloud-, Anschluss- und Interfacetechnik sowie HMI und RFID. Unser weltweites Produktions- und Vertriebsnetz umfasst über 30 Tochtergesellschaften sowie Vertretungen in weiteren 60 Staaten.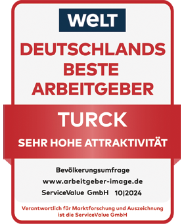 Wir freuen uns auf Ihre aussagekräftigen Bewerbungsunterlagen.
Ihr Ansprechpartner:
Hans Turck GmbH & Co. KG
David Eckey
Witzlebenstraße 7
45472 Mülheim an der Ruhr
+ 49 208 4952-4675