Service & Support Engineer (m/w/d)
für unser R&D Projekt- und Portfoliomanagement | Zunächst befristet für ca. 1 Jahr
Halver | zum nächstmöglichen Zeitpunkt | Befristet | Job ID TH 21-06-3710
Ihre Aufgaben:
Als Service & Support Engineer (m/w/d) sind Sie Teil eines achtköpfigen Teams aus Projektleitern, Portfoliomanagern und Service & Support Engineers im Bereich R&D. Mit Ihrer ausgeprägten Kommunikationsfähigkeit und Kundenorientierung unterstützen Sie das Team bei allen anfallenden Aufgaben.
Projekt- und Product-Lifecycle-Management, von der Idee über den Product Launch bis zum End of Life
Leitung von internen R&D-Projekten mit den Schwerpunkten "Design to cost" und "Cost out"
Koordination von Engineering Change Requests, insbesondere der Ein- und Auslaufsteuerung
Umsetzung neuer Produktvarianten und Überführung in die Serie
Mitwirkung bei der Analyse und nachhaltigen Behebung von Produktionsausfällen bei Designfehlern
Durchführung von entwicklungsbegleitenden Prüfungen und Dokumentation der Ergebnisse
Ihr Profil:
Erfolgreich abgeschlossene technische Ausbildung, alternativ abgeschlossenes Studium im Bereich Wirtschaftsingenieurwesen wünschenswert 
Sicherer Umgang mit den gängigen MS-Office-Applikationen
Zuverlässigkeit sowie eine eigenständige, verbindliche und strukturierte Arbeitsweise
Gute Englischkenntnisse
Wir bieten:
Eigenverantwortliche Position in einem weltweit operierenden Familienunternehmen
Flache Hierarchien, offene Türen und ein kollegiales Miteinander
Qualifizierung "on the job" sowie mit geeigneten Schulungen und einer intensiven Einarbeitung
Flexible, familienfreundliche Arbeitszeitmodelle und Möglichkeit zur mobilen Arbeit
Betriebliches Gesundheitsmanagement, umfassende Sozialleistungen
Moderne IT-Infrastruktur
Über uns:
Turck ist eine international führende Unternehmensgruppe auf dem Gebiet der Industrieautomation. Unser globales Vertriebsnetz umfasst 28 Tochtergesellschaften sowie Vertretungen in weiteren 60 Staaten der Welt. Mit mehr als 4.650 Mitarbeitern weltweit entwickeln, produzieren und vertreiben wir Produkte und Lösungen aus den Bereichen Sensor-, Anschluss-, Interface- und Feldbustechnik sowie HMI und RFID.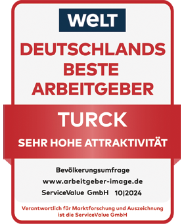 Wir freuen uns auf Ihre aussagekräftigen Bewerbungsunterlagen.
Ihre Ansprechpartnerin:
Werner Turck GmbH & Co. KG
Melissa Galley
Goethestraße 7
58553 Halver
+49 2353 709-6206