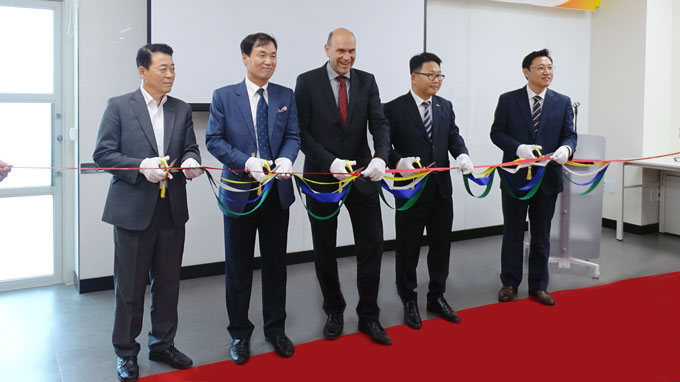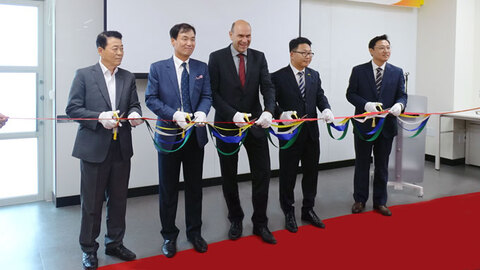 Ceremonial cutting of the ribbon (from left: Jongbin Lee, Chuck Choi, Frank Rohn, Johnny Shin, MH Cheong)
Opening of New Training Center in Korea
Turck Korea recently celebrated the opening of its brand new training center – Turck Group's first training center in the Asia Pacific region.

At the end of August, Turck Korea officially opened its brand new training center. It is the first training center established in the Asia Pacific region within the Turck Group. With the new training center in Korea, Turck wants to expand its service offering for its Asian customers.

Turck Korea will provide technical trainings to people involved in the automation industry as well as its employees and distributors. Turck Korea's Solution consulting team played a big role in establishing the first training center in Asia. Turck Korea has continuously hired engineers who perform not only product technology support, but also work as system integrators (SI), as well as offering software programming. With multi-role responsibility start to end, the engineers became key players with versatile but essential talents such as the consulting abilities and programming skills needed for introducing smart factory solutions to customers.

The Training center features a miniature demonstration of some of Turck's solutions for smart factories. This demonstration deploys various devices, such as sensor, RFID, smart camera and wireless systems for collecting, analyzing and querying data on cloud.

Additionally, a factory automation overview panel is displayed in the center, where you can experience Turck's featured products, such as TX500 with PLC functionality, IP67 rated TBEN block I/O controller, BL20 and BL67 fieldbus system and etc. in one place.

Johnny Shin, General Manager of Turck Korea, announced the company's ambition to be a core company leading industry 4.0 and promised to make its contribution to the Korean domestic automation industry. Frank Rohn, Vice president of Hans Turck, added that Turck has seen the significant growth of Turck Korea in the last several years. He hopes to expand Turck's business further and contribute to the Korean market through the establishment of this training center.