profinet

What is PROFINET?
The Profinet protocol is based on Industrial Ethernet and is a communication standard for factory automation. It describes the entire data exchange between so-called slaves such as Turck's multiprotocol I/O modules and a controller, the Profinet master. In this function Profinet is considered the successor to the Profibus fieldbus protocol.
The system overview provides an initial impression of the network architecture and the different I/O and network components. Connections can be implemented via linear, star and tree structures, or also via a redundant ring topology (MRP).
Integration in process automation
Chemical and pharmaceutical plants must be protected at great expense from downtimes and therefore place particular requirements on I/O systems. The risk of explosion is present in many areas of a plant and an interruption in the continuous production process may result in enormous financial losses. To prevent this, controllers and I/O modules in the field are normally designed with redundancy, i.e.: if a device or a connection fails, the backup solution is activated.
Profinet System Redundancy
In the Profinet context, a new standard was created for this with system redundancy, offering greater investment security for companies in the process automation industry. The terminology used here is based on a classification that reflects the degree of fail safety that an automation system is to ensure.
I/O devices from Turck can already maintain the required logical dual connection to two separate controllers. The TBEN-L5-8IOL is thus the world's first IO-Link master module with protection to IP67 to support Profinet S2 system redundancy.
Very high and maximum availability can only be achieved with R1 or R2 system redundancy. This involves the additional implementation on a field device of a redundant communication interface, and is used in conjunction with remote I/O. R2 with its four-way connection represents the highest level of complexity.
Smart combined with IO-Link
The Profinet extension for system redundancy now makes the benefits of Industrial Ethernet also available for the process industry. Turck goes one step further and additionally integrates IO-Link in the world of high availability systems. The overview shows what a system architecture could look like.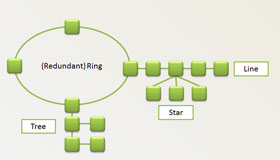 PROFINET Network Topology (Klick to enlarge!)
Flexible network topology
The PROFINET I/O devices from Turck have an integrated switch and can be installed in linear structure like classic fieldbus systems.
In addition, PROFINET also supports the standard Ethernet topologies such as star, tree and ring structures. Like that the network installation can be easily adapted to machine and plant structure. In a star or tree structure external switches are used, which in turn has a positive effect on the performance of the overall system.
Fast Start-up
Fast Start-up reduces the time between switching on the power supply of a I/O device and the establishment of a connection with the I/O controller. Fast Start-up is defined by PROFINET generally as less than 500 ms. Turck's I/O modules of the TBEN-L Series also realize start-up times up to 150 ms.
Fast coupling of I/O devices is especially important to reduce waiting times in tool change applications. So clock rates and thus productivity can be increased.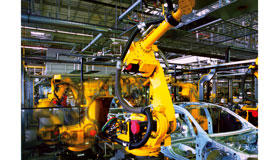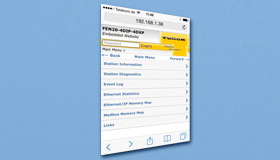 Extended Diagnostics
In PROFINET networks standard IT functions and protocols such as HTTP and SNMP (simple network management protocol) are available for network diagnosis. The SNMP protocol is, among other things, a basis for the PROFINETtopology scan. With it, entire network structures can be read online and displayed graphically.
All multiprotocol Ethernet gateways and I/O modules from Turck are equipped with a web server. The web server provides statistics and settings in addition to the Ethernet ports and a fault memory with history and diagnoses in plain text.
Proven Engineering
In keeping with tradition of PROFIBUS, the configuration of the system was largely retained even with PROFINET. With this, PROFINET provides a very sophisticated and user-friendly engineering compared to other Ethernet protocols. The new GSDML configuration files are based on the XML standard and enable advanced structures and new functions. In addition, the web server configuration tool is becoming increasingly important. Thus, for example, Ethernet ports are configured or the PROFINET name can be assigned.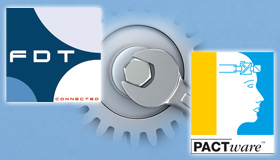 Profinet Products
Follow these links to find your Profinet product in our product database