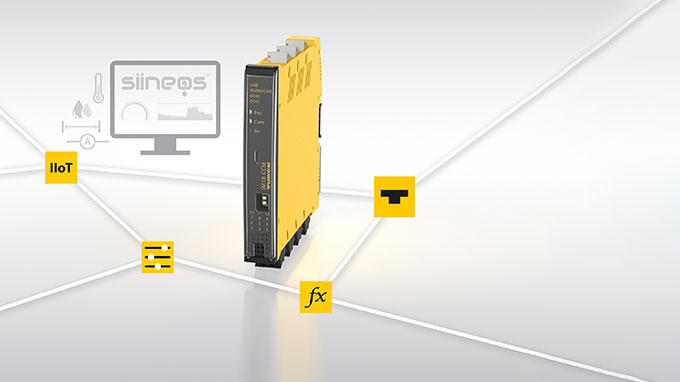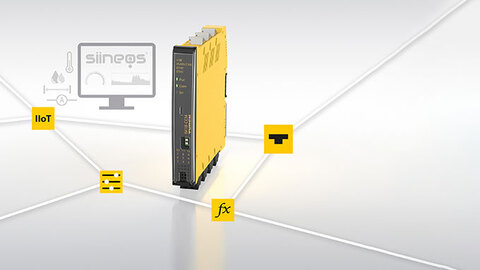 Turck's IM18-CCM60 with the siineos operating system: condition monitoring without programming knowledge
Condition Monitoring Platform Extended
The siineos IIoT operating system turns Turck's IM18-CCM control cabinet guard into a smart plug & play solution – easy to use, operate and expand

Turck's IM18-CCM60 is another particularly user-friendly addition to Turck's condition monitoring platform for the condition monitoring of control cabinets. While the IM18-CCM40 and -CCM50 models with the Debian Linux system primarily offer OEMs a maximum degree of freedom to integrate them into existing corporate structures, the new model comes with the siineos IIoT operating system, which the digitalization specialists at in.hub developed specifically for the CCM platform.
Condition monitoring and IIoT functions without any programming knowledge
The InCore framework integrated in siineos offers a wide range of ready-to-use components that can be used to easily operate the integrated interfaces and sensors as well as all standard network and industrial protocols.
Your Benefits
Scalable "out-of-the-box solution" for simple control cabinet monitoring up to complex condition monitoring
Save onsite service thanks to remote access to IM18-CCM60 and connected machines
Easy setup of condition monitoring via web-based wizard
Cost-effective because hardware and software are already included and expensive programming experts are not required
Besides existing apps, you can also create your own programs and apps or load them like on a smartphone. The web-based wizard accompanies the setup, so that even users without any previous knowledge can handle the IM18-CCM60 without any problems. This also allows easy access to the internal sensors for temperature, humidity and door distance and the parameterization of diverse interfaces. Programming knowledge is not required. Via the integrated OpenVPN client, the IM18-CCM60 can establish a secure connection to IT in the field and enable remote access to the device as well as optionally to connected machines.
---
INDUSTRIES
Machines and plant building
---
KEY FUNCTIONS
Powerful, compact control cabinet computer with three integrated sensors
siineos IIoT operating system enables condition monitoring and the use of all I/Os and interfaces without any knowledge of programming
Open VPN client for secure remote access
MQTT and OPC UA as an interface for easy OT-IT connection
Cloud connector for MS Azure and Telekom cloud
---
RELATED CONTENT
PRODUCT DATA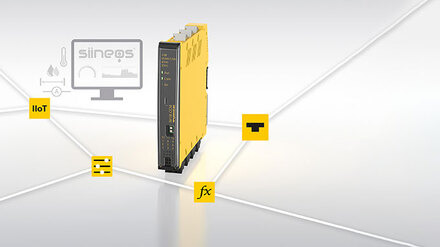 Approvals, data sheets, technical specifications, instructions, certificates, CAD data and more
---
DIGITAL SHOWCASE