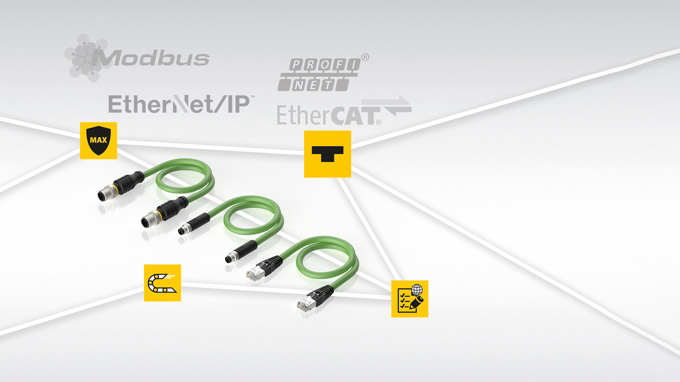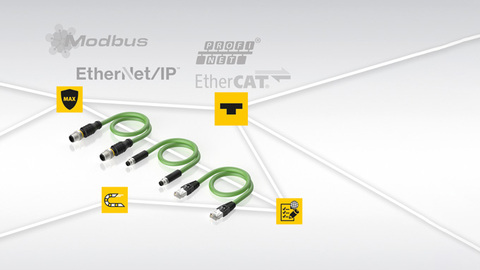 Standard for demanding Ethernet communication: Turck's 4422 cordset series
Robust Ethernet Cordset Series
Turck's 4422 series is a complete series of Ethernet cables

Turck's 4422 series offers a comprehensive range of standard Ethernet cables for industrial production – robust, flexible and suitable for high data rates. The multiprotocol-capable Ethernet cables of the 4422 series have been approved for the most important markets and network types and meet all the criteria for use in networks with Profinet (PNO), EtherCAT (ETG), Ethernet/IP (ODVA) or Modbus TCP.
Your Benefits
Complete portfolio with RJ45 connectors as well as M8 and M12 connectors in straight or angled design
Universally applicable for sophisticated Ethernet communication
Suitable as worldwide standard Ethernet cable thanks to global approvals
High Data Rates for All Network Protocols
The polyurethane cable jacket makes them robust against abrasion and pressure, and yet allows a high level of flexibility with torsion radii of +/- 180 degrees per meter. The cable can also withstand more than 5 million bending cycles, thus making it suitable for drag chain applications. In combination with the appropriate female connectors, the cables comply with protection type IP67. With Cat 5e and 100 Mbps, they can also be used to implement applications with high data rates.
The cables of the 4422 series are available with RJ45 male connectors as well as with straight or angled M12 or M8 male connectors with different codings. The combined knurled hexagon nut simplifies assembly with or without tools. In addition to CE and UKCA approval for Europe, the cables also have UL certification for the American market.
The portfolio is available from stock, and customer-specific variants can also be supplied on request, for example with customized printing, in special lengths or special assemblies.
---
INDUSTRIES
All classic industrial applications
---
KEY FUNCTIONS
Compliant with Profinet, Ethernet/IP, EtherCAT and Modbus TCP standards
Drag chain compatible
> 5 million bending cycles
Torsion radius of 180°/m
---
RELATED CONTENT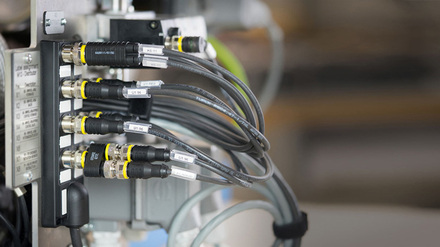 Learn more about our product range comprising a wealth of different connectors and cables, including over 115,000 connection technology solutions
---
PRODUCT DATA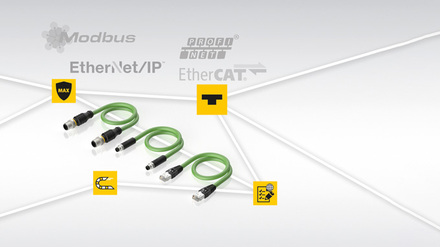 Approvals, data sheets, technical specifications, instructions, certificates, CAD data and more
---
DIGITAL SHOWCASE