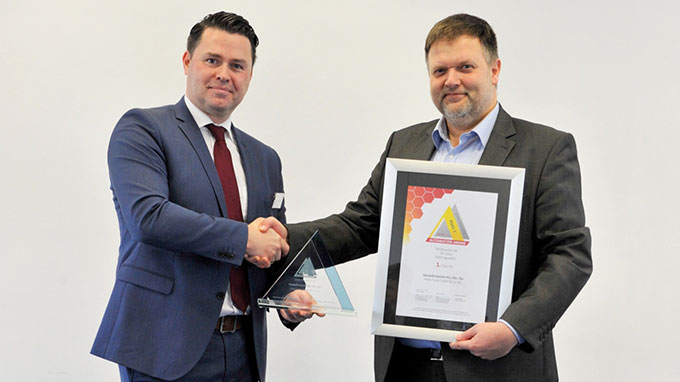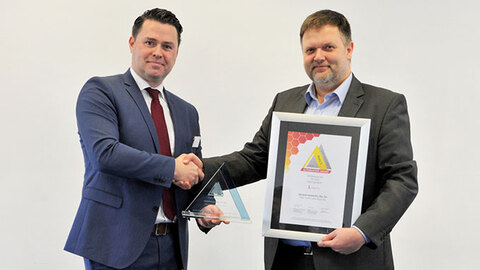 Award-winning product series: Michael Corban (re.), chief editor of elektro AUTOMATION, presented Turck product manager Raphael Scholzen with the top prize.
Automation Award for Fluid Sensor Series
Visitors to the SPS 2019 fair voted Turck's new Plus product portfolio the winner in the Standard components & sensors section

Turck's new fluid sensor series has been awarded elektro AUTOMATION magazine's Automation Award. Visitors to the Nuremberg SPS – Smart Sensor Solutions trade fair voted the product series by majority as the winner of the Standard components & sensors section. "The combination of a uniform technology concept and functional design made a big impression", explains a delighted Raphael Scholzen, product manager for fluid sensors, who received the prize on Thursday at the publishing house of the Konradin media group.

Turck showcased in May the first devices of the PS+ pressure sensor series, which already won the IF Design Award at their launch. Flow sensors of the FS+ series have now been added to the portfolio since the SPS trade fair, and the TS+ temperature sensors will be added before the beginning of 2020.

All devices in the fluid sensors series are based on the same platform and therefore offer uniform handling. The standout feature of the Plus portfolio is the compact sensor head with a stainless steel housing as well as a single-piece front cap. The capacitive touchpad of the operator interface offers users intuitive menu navigation while the sealing concept ensures maximum protection from the ingress of humidity and dust.