Encoders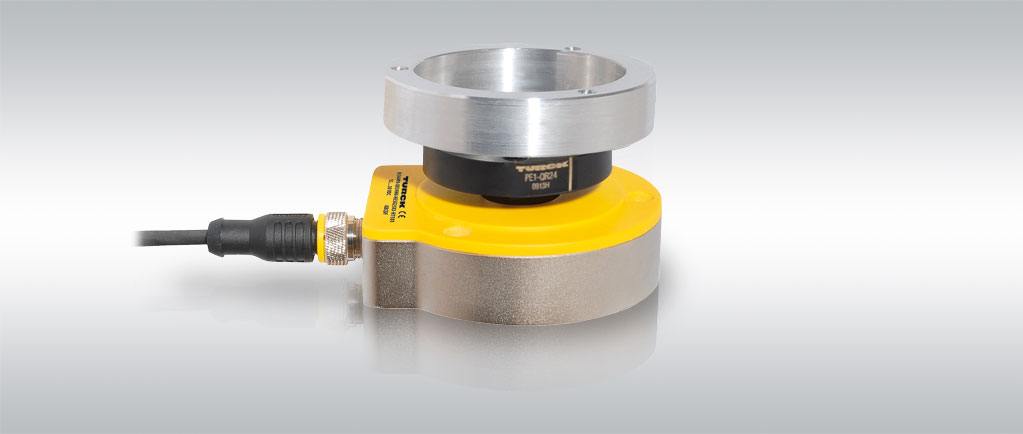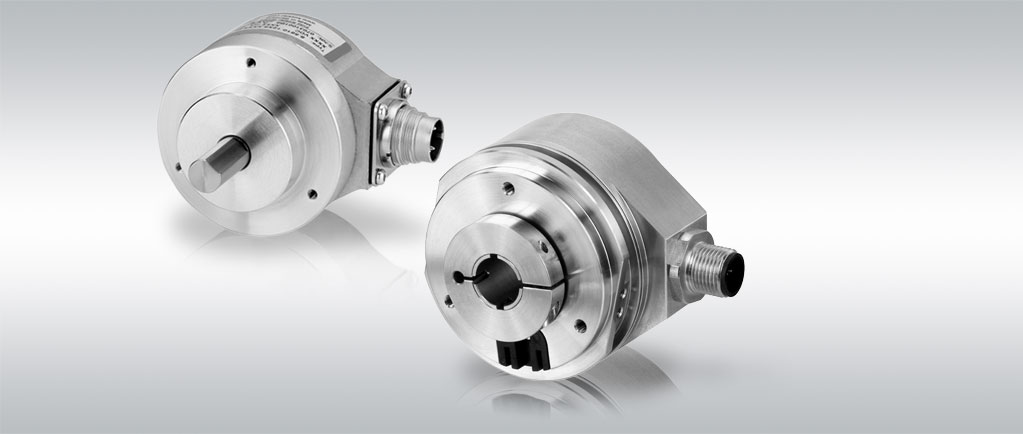 Encoders are used for any application where rotation speed, sense, position, angle and length are monitored. The Turck range comprises contactless and conventional encoders in various designs, graduated in a range of sizes from 24 up to 102 mm diameter, as versions for incremental or absolute position detection, as hollow or solid shaft variants. Vibration resistance and robustness without compromise are prerequisites for reliable operation of the devices, even in demanding environments.
Innovative technology: Contactless encoders QR24 and QR20 are based on the inductive measuring principle. Users benefit from the wear-free design and interference immunity.
RI – Completely Contactless, Inductive Encoders
Contactless encoders from Turck are based on an inductive measuring system and impress with a wear-free design and interference immunity. The measuring principle allows a design without seals with fully sealed sensor housing that is mechanically separated from the shaft and thus the actual positioning element.

The measuring process guarantees maximum accuracy despite interference such as water, electromagnetic effects or vibration on the shaft.

The sealed housing is highly resilient, meets protection class IP67/IP69K (including condensation) and is resistant to many chemicals.

A wide range of output signals: Analog with incremental, voltage or current output. Digital with SSI, CANopen or IO-Link.

Flexible: The inductive encoder can be adapted with different insert sleeves for a perfect fit on all standard shafts.
RE – Conventional Encoders for Different Applications
Turck offers the right encoder for various applications: Incremental encoders (REI) deliver electrical impulses, whose number is a measure of the angular position. Singleturn absolute encoders (RES) capture every angle within a 360° turn, while multiturn absolute encoders (REM) additionally detect the number of revolutions.

Even under adverse circumstances, a high protection class up to IP67 is guaranteed. This is ensured by the mechanically protected shaft seal.

The robust bearing construction ensures a high degree of stability when subjected to vibration and other mechanical shaft loads.

An innovative backend provides precise measurement signals with high linearity and low signal noise.

Interference immunity: The encoders are immune to magnetic fields of all kinds and also offer excellent EMC performance.

RES and REM encoders are available with IO-Link COM3 interface, the latest and fastest version of the digital interface.

Mobile equipment: CANopen and SAE J1939 - the communication protocol for commercial vehicles - predestine RE encoders for mobile equipment.
Designed for Agriculture
Miniature encoder Ri360-QR20 – contactless, wear-free and permanently sealed.
Elevator Pitch: IO-Link Encoders
The IO-Link encoders offering the perfect match between position feedback and additional valuable information.
Best Practice