Receptacles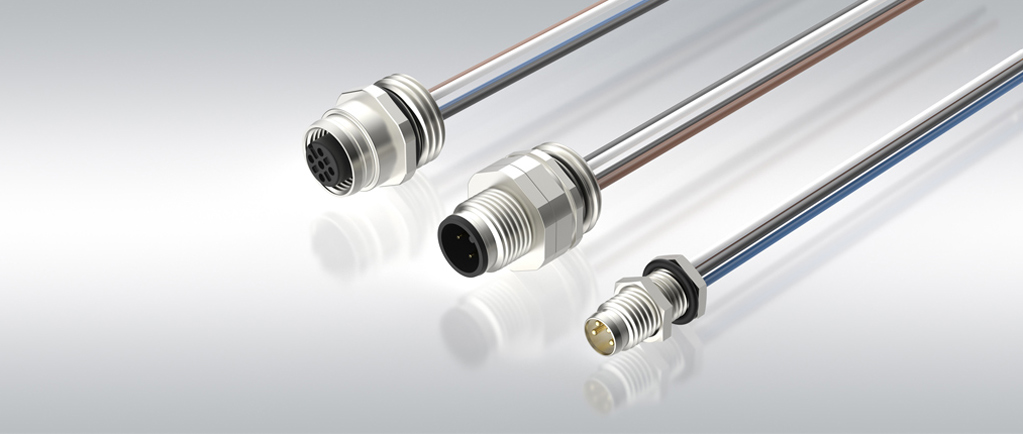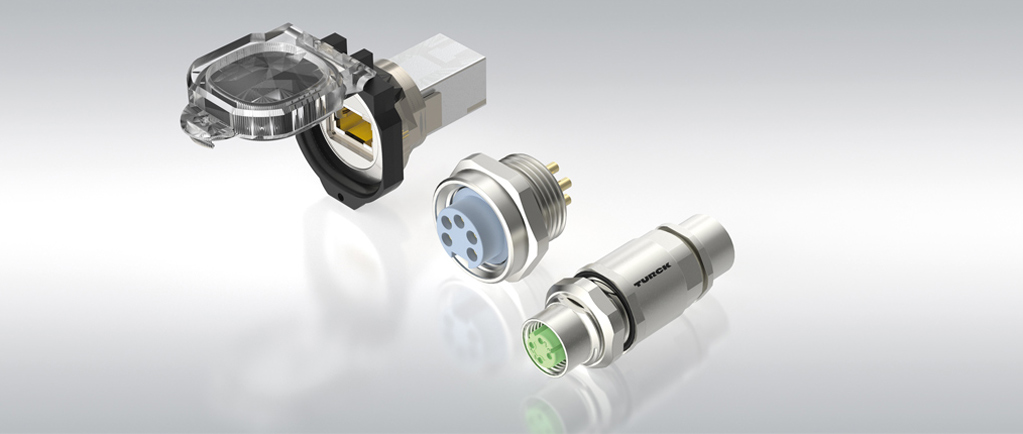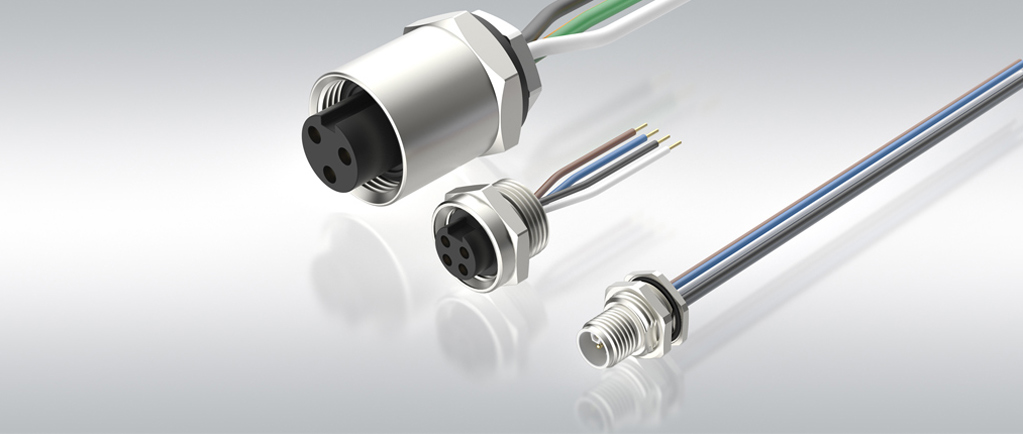 In connection technology, receptacles connect the control cabinet to the production environment. Receptacles usually have two connector ends: one with open cable ends that are placed on terminals, while the other is used to connect connectors.
Receptacles can drastically reduce installation work during commissioning on site, as the pre-wired switch cabinets can be quickly mounted on site and connected with quick connectors.
Turck offers receptacles with M8, M12, M16, M23 and 7/8-inch connectors for all common connector systems – both for mounting in front of and behind the control cabinet wall. Users can choose between printed or soldered contacts as well as stranded wires in various numbers of pins and codings.
Receptacles for Signal Transmission
Receptacles in M8, M12, 7/8″, M16, M23 and M27 allow quick, tool-free installation and guarantee error-free application.
Seals ensure reliable protection against the ingress of moisture or dirt as well as a robust connection.

Nickel-plated brass or stainless steel (316) receptacles for use in tough environments.

The high-quality design ensures a long useful lifetime even with frequent mating cycles.
Receptacles for Data Transmission
Receptacles for fieldbuses connect the physical level of the field devices (sensors, actuators) with I/O systems and controllers. Pre-wired receptacles ensure faster commissioning and reduce wiring errors that can often occur when commissioning data systems.
Turck's range includes different connection types such as solder, stranded wire or print terminals. Turck's receptacles for data transmission comply with the standards of the respective fieldbus systems:
EtherNet/IP, PROFINET, Modbus-TCP, EtherCAT
Modbus-RTU, RS232, RS485
CAN bus
DeviceNet, PROFIBUS-DP
Foundation Fieldbus, PROFIBUS-PA

Different codings such as A, B, D and X facilitate data transmission from the control cabinet to the field and vice versa. Interface from IP20 to IP67.

Plug and play: Pre-wired control cabinets with receptacles allow faster and safer commissioning.
Receptacles for Power Transmission
Turck receptacles for power transmission are ideally suited for AC and DC motors in materials handling and logistics as well as for lighting applications.
The Power product series includes M12, M16, M23 as well as 7/8-inch (A-Size) and 1 3/8-inch (D-Size) designs. The three- and four-pin 1 3/8-inch receptacles offer a solution for single- and three-phase motors up to 40 amps.

M12 Power offers four different codings to meet the requirements of almost all AC/DC applications (up to 12 amps).

Extensive product portfolio: M12, M16, M23, 7/8″ and 1 3/8″ receptacles for almost all challenges.